You must allow cookies and JavaScript for a proper shopping experience.
MODERN FIRST EDITIONS
~Modern First Editions~ Signed and Collectible Books~
~Specializing also in Contemporary Children's and Young Adult Fiction~
~Rare~ Used and Out of Print~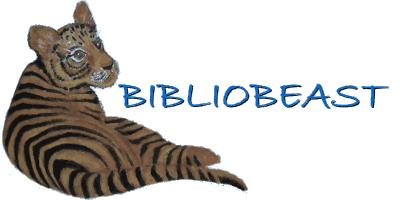 Welcome to the home of Bibliobeast. Please search or browse our eclectic collection of first edition, signed, hard to find, out of print, used, rare, antiquarian and prize-winning books. We also specialize in children's and young adult fiction . We have a very large inventory that is not yet online. If you can't find what you are looking for or want to contact me about any listed book please click on this link,
Contact Bibliobeast
We are constantly adding new books.


~"You cannot pretend to read a book. Your eyes will give you away. So will your breathing. A person entranced by a book simply forgets to breathe. The house can catch alight and a reader deep in a book will not look up until the wallpaper is in flames."~

~Lloyd Jones~from Mister Pip
All orders and inquiries evoke a quick response as we believe our careful attention to quality in all aspects is a sign of our commitment to the bookbuyer and reader. We grade our books accurately with professional standards. We pack with care and bubblewrap, and ship your books next business day. We want you to be pleased when you receive them so that you will return when you next look for a book. 



~Without books, God is silent, justice dormant, natural science at a stand, philosophy lame, letters dumb, and all things involved in darkness.~





~Thomas V. Bartholin~
Easy Payment Options
 We accept direct bank payement or credit card payments thru Paypal at [email protected].  We ship all books out quickly on the same or next business day and all books are sent with a Delivery Confirmation for tracking within the U.S. Refunds are accepted with notification first please, within 10 days of the books arrival.